TIMBA, SALSA & SON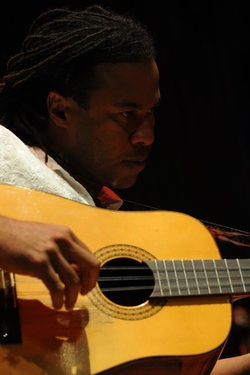 Over the past 10 years Jesús has developed a different musical concept based on traditional Cuban son but giving it a new sound through strong contemporary harmonies, catchy melodies and poetic lyrics. He describes his music as mostly salsa-timba.

As with other great soneros his music goes from a traditional son to a mambo or cha-cha-cha magnificently but he does not stop there. Cuban music has always been inspired by rhythms and sonorities from all over the world and Jesús' music is no exception. He is open-minded to experimentation and likes to surprise the dancer or the listener by breaking the rhythm with, for instance, flamenco, samba, jazz, bollywood, bachata, reggaeton etc.

For Jesus lyrics are just as important as melodies and rhythms. He loves to play with words, using puns, double meanings, rich rhymes or images to tell stories, to recreate moments from daily life, impressions and feelings. Whether romantic, funny or provocative his texts almost always include - often between the lines - personal messages or references to special moments, events or phrases that only close friends and family will recognise. This makes his music fresh, spontaneous and engaging. On stage his improvisational skills, his energy and his ability to entertain people make him a star on the European salsa scene.

Over the past 10 years he has appeared or shared the stage with numerous prestigious artists including Oscar D'Leon, Gilberto Santa Rosa, Tito Nueves, Lusito Quintero, Cano Estremera, Lusito Carrion, Maelo Ruiz, Tito Gomez, Leodan, Roberto Torres, Ricky Martin, Enrique Iglesias and Wynton Marsalis (with the Jazz at Lincoln Center Orchestra).


---
Copyright © 2015 Piel Canela Music